Wonderful Country house for sale in Castellcir – 30 mi. from Barcelona: £ 526.000 / € 595,000
Wonderful Masia Catalan-House entirely built with natural stones and modern inner design. Located in Castellcir municipality of Moianès (Catalonia). 35 minutes from Barcelona City and the beaches.
300 m2, 6 rooms, (35 m2 loft), a living room, 3 bathrooms, 44 m2 garage. Surface: 579.19 m2
The house is fully equipped with top quality materials such as Vaillant brand geothermal, Keraben porcelain underfloor heating, domotic blinds by zones, the entire house or partly in each room. Living room with fireplace insert able to heat 300 m2 for forced airflow, double height roofs in hardwoods, solid iroco wood windows, medieval style bars and many details that make this house an exclusive property.
---
---
Hall in the ground floor hall with direct access to the garage of 44 m2, and entrance to living room with double height roofs, dining room opened to the garden, open kitchen to the living room with central cooking island in modern style, equipped with high-end design appliances, including a fantastic De Dietrich Teppanyaki, for roasting meat and fish. Main Hallway access to sleeping area with four double bedrooms, laundry room and two bathrooms with shower, all made of Italian natural marble.
On the first floor there is a large loft with a terrace with great views to the forest. There is also a suite with a dressing area and a big bathroom with a hot tub and a shower apart. There is a wooden house in the back garden offering an extra space, fully air-conditioned in winter and summer.
Heating: Underfloor Geothermal Energy (green energy). Brand Vaillant German Geothermal Pump. Annual electricity expenses: heating, electricity, etc. 1000 euros. 2 Geothermal Energy pumps water from wells with 100 m depth and it receives energy from subsoil at 15 degrees approximately during all seasons. Geothermal Pump converts it into a heat over 21-22º setting the minimum cost.
It has also an Edilkamin fireplace providing 11.6 kw, enough for heating itself more than 300 m2.
Energy Performance Certificate (EPC) of the house is C.
Domotic electric blinds.
Insert Edilkamin Vision 100 cms Fireplace, with a heating capacity of 300 m2.
Grohe and Hansgrohe faucets.
IROKO wood windows, low maintenance due to its density.
Led lights inside and outside the house.
Surrounded by green areas (forests, non-building area).
Bathrooms, made of natural Italian marble.
Schools-institutes, health care center: 100 meters
Shops: 150 meters
Castellcir, a small village surrounded by forests, only 30 mi from Barcelona
---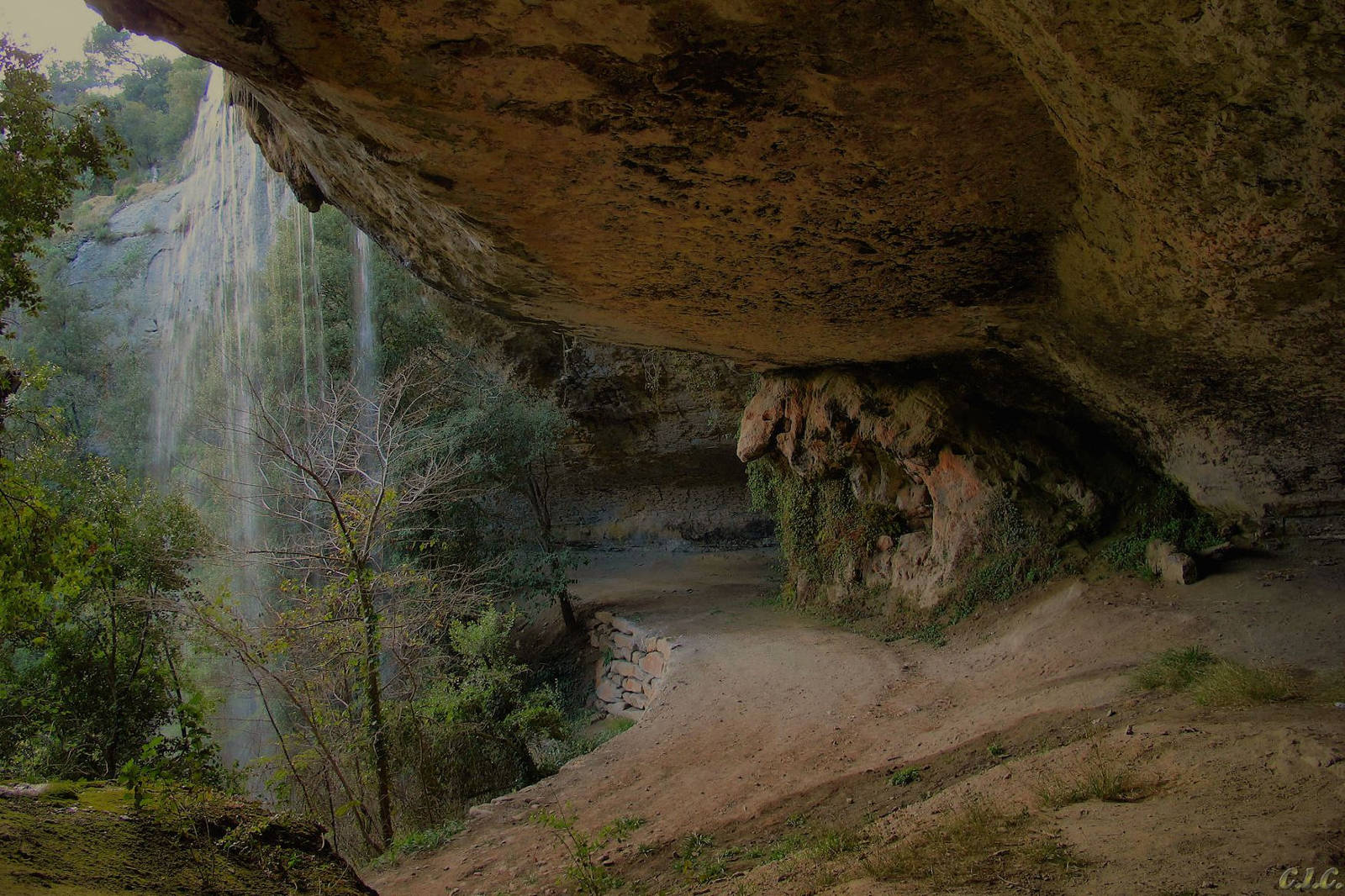 ---
Castellcir is a particular Catalan village. Its beautiful landscape of all its surroundings makes this small village of quietness in a privileged place.
Measure, proportion and a perfect cadence… a smart and beautiful nature. Castellcir lies at the centre of a circle linking some of the most spectacular elements of the Catalan landscape: Montserrat and Sant Llorenç de Munt, the magnificent Montseny and the spectacular cliffs of Collsacabra, Cadí and Pedraforca, Port del Compte and Montsec.
The inhabitants of El Moianés endeavoured to shape its environment to his own image and likeness. To date, their efforts have been successful, helped in no small measure by their relative isolation from Barcelona and El Vallès region. This is due to its highlands shape, slightly sloping to the Llobregat river which kept away motorways and railway from them and that routes sidestepped by curves. Winter here is relatively cold yet clear; summer nights are refreshingly colder than on the surrounding low-lying plains. To the east, in Castellcir, extensive oak woodlands alternate with cultivated fields, pine and Holm-oak forest, in a gentle undulating landscape occasionally cut across by tree-lined streams.
This manor house is for sale:
Sale Price: € 595.000
---
---
Luxury house with pool for sale in Castellcir – 30 mi. from Barcelona: € 699,000
Luxury house with a built up area of 382 m2 on 2067 m2. of flat land. 10 bedrooms and 4 bathrooms. 2 floors. Separate garage. Pool and barbeque. Sauna and Jacuzzi.
The entire land and house project has been carried out with the advice and support of the Feng Shui Professor, Rik Vermuiten, always bearing the ecological aspects of the materials and the construction methods in the mind.
Stone house for sale with 5 ha of land in a beautiful spot – 35 mi. from Barcelona: € 780.000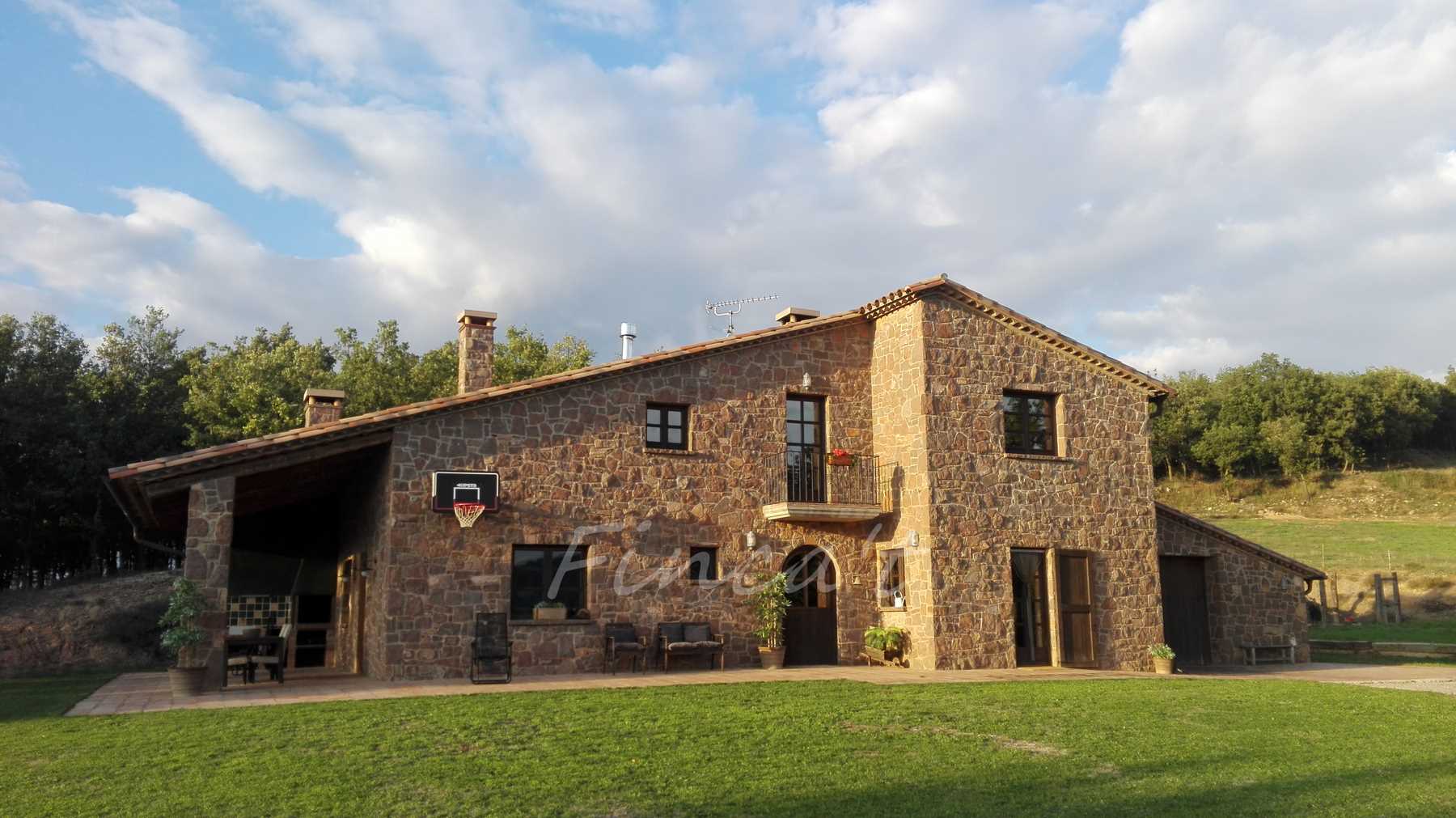 Exclusive rustic estate with 5 ha of land and a 337 m2 stone house and stables for 4 horses. Built on top of a hill and south-facing, the house enjoys marvellous views over the fields and forests that surround it, with the village of l´Estany in the background. Sunny all year round due it its good position, it is sheltered from the north wind thanks to an oak and pine forest.
5 ha surface area of which 2,8 ha are crop fields and 2,2 ha of oak and pine forest. From the top of the hill, north bound, we can enjoy spectacular views
See More
The modernist small palace of Tenor Viñas in Moià – Barcelona for sale: € 490.000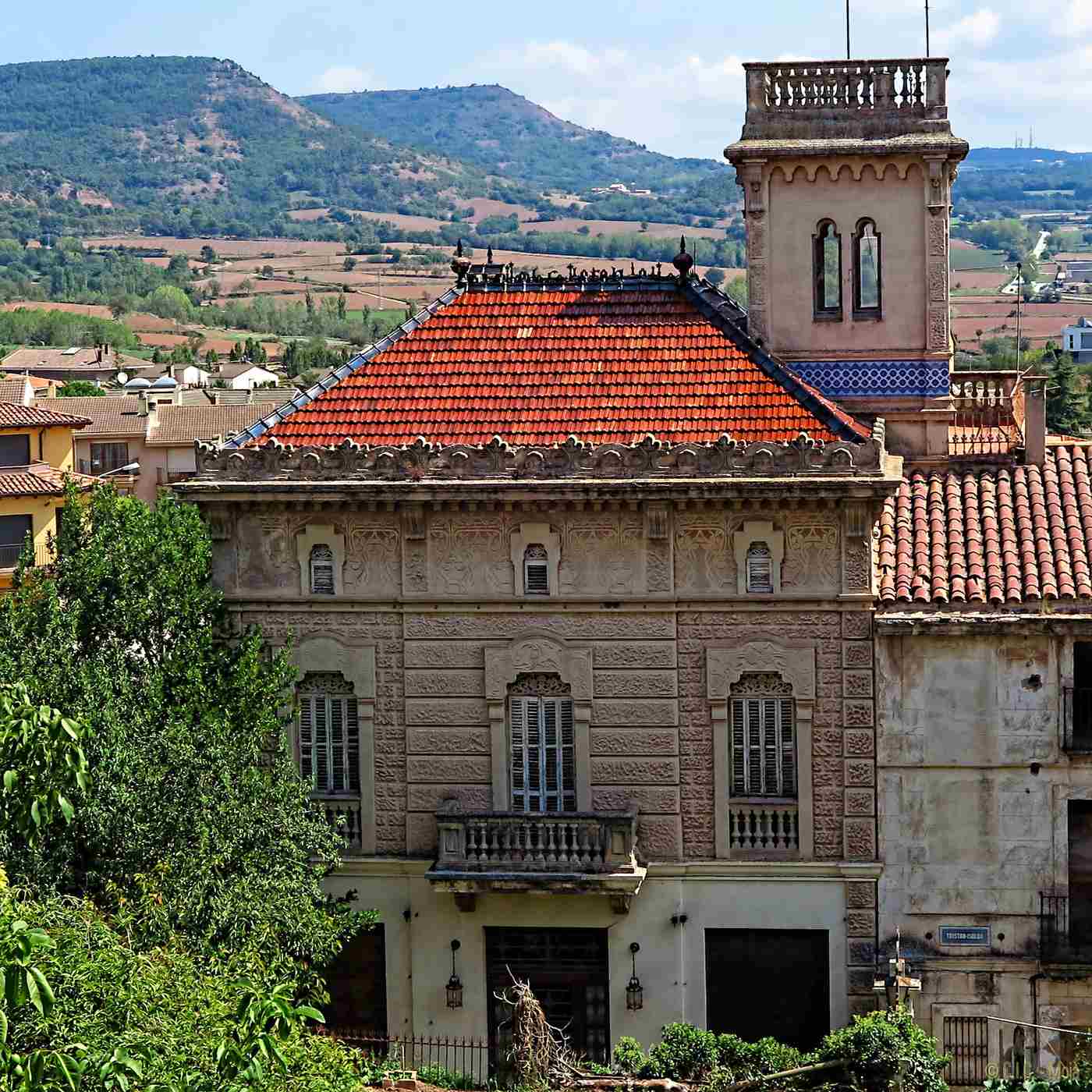 After 20 years of triumphs in the best opera houses in the world, the tenor decided to build this palace by the house of their fathers, under the great church of the village. Used as a residence by the famous opera singer, still it retains some of the furniture and decoration of early and mid-twentieth century.
See More
Manor House for sale in Castellterçol – 25 mi. from Barcelona – € 990.000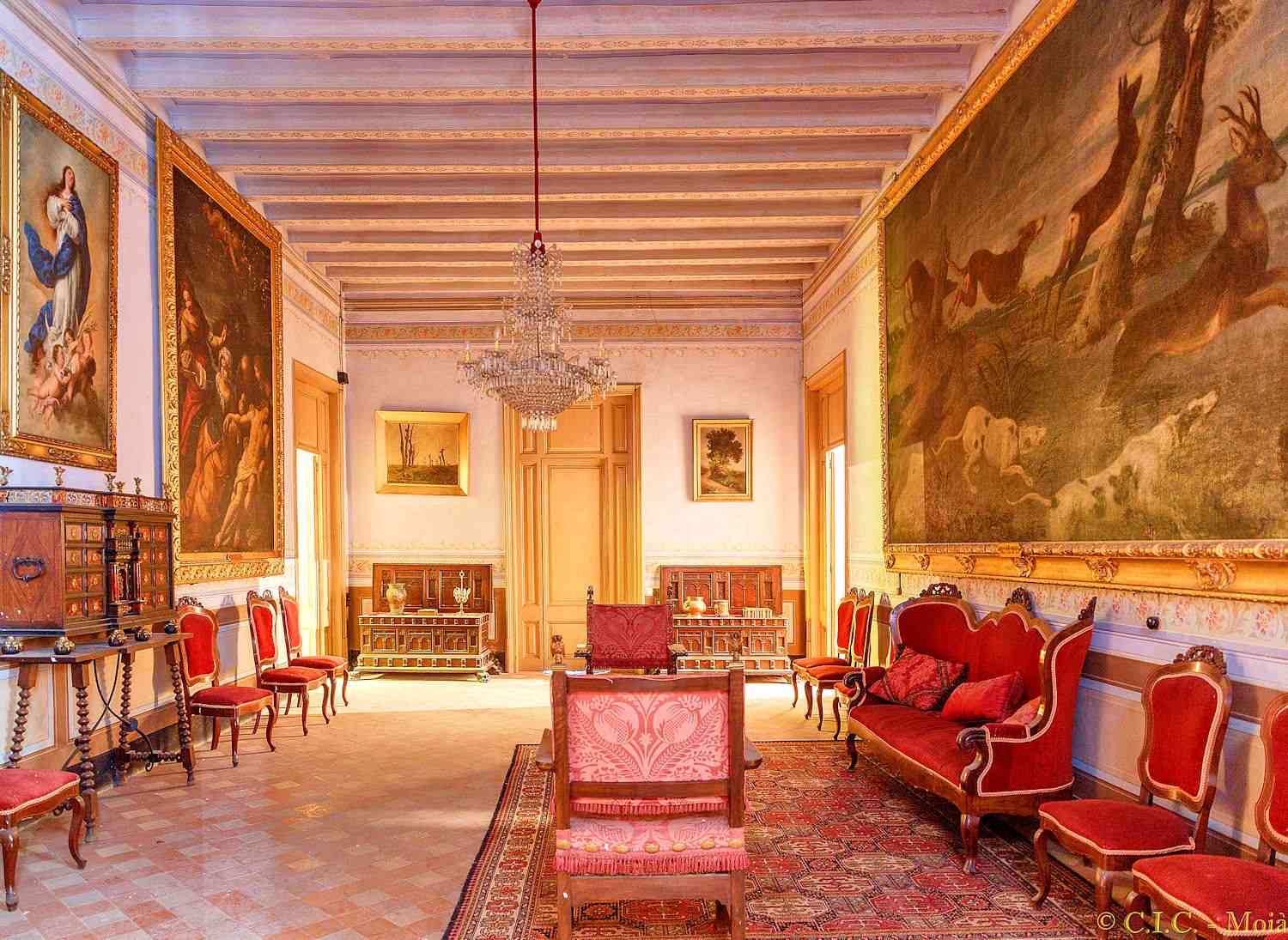 1900's style (Noucentisme) town house built at the end of the XIX century located in Prat de la Riba Square in Castellterçol. 1.926 m2 built on three floors. As the main facade is south-facing, there is a lot of sun all year long and good views over the lower part of the village. The 300 m2 garden has nice views with the village of Moià in the background. This view will be maintained indefinitely due to the restrictions placed on the building in front of it, which prevent it from building higher than its current height.
See More